Hereunder we describe the talks and speeches which have been presented about the TID on the occasion of congresses, meetings and other public conferences. We have neither included the presentations before companies, institutions or the Administration, nor texts which have been prepared for private use.
XXX Biannual Meeting of the R.S.E. of Physics). Orense, September 2005
"Theory of Dynamic Interactions. Alternative Mathematical and Physical Model in Rotational Dynamics" Gabriel Barceló Rico-Avello
"Anomalía de las sondas Pioneer, (Pioneer Anomaly). Theory of Dynamic Interactions" Gabriel Barceló Rico-Avello
International Congress of Mathematics in Engineering and Architecture, Polytechnic University of Madrid. Technical School of Civil Engineering Madrid, June 2007
"Mathematical Model in Rotational Dynamics" Gabriel Barceló Rico-Avello, Alejandro Álvarez.
XX Congress About Differential Equations and Applications
X Congress of Applied Mathematics. CEDYA 2007. Seville, September 2007
"An inverse problem that emerges in the study of movements with non-coaxial intrinsic rotations is one related with a disk". G. Barceló, J.I. Díaz, A.M. Ramos (Dept. of Applied Mathematics, Faculty of Mathematics, University Complutense of Madrid).
II LEEM Congress (Laboratory for Experiments in Space and Microgravity).Valencia, November 2007
"Presentation of ADSA during the LEEM Congress". Maria Cano.
"Presentation of the investigation project of ADSA". Alejandro Álvarez.
XXXII REUNIÓN BIENAL de la R.S.E de Física. Ciudad Real, september 2009:
System dynamics accelerated by rotation. G.Barceló.
61ST INTERNATIONAL ASTRONAUTICAL CONGRESS. Prague, september 2010:
On the equivalence principle. G.Barceló. (Download text)
INTERNATIONAL CONFERENCE ON DISIGN AND MODELING IN SCIENCE, EDUCATION, AND TECHNOLOGY: DEMSET 2011. November 29 – December 2, 2011 – Orlando, Florida, USA.
Analisys of dynamics fields systems accelerated by rotation.
Dynamics of non-inertial systems.
Gabriel Barceló Rico-Avello.  (Download text.)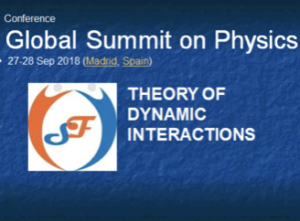 27 de septiembre de 2018
THEORY OF DYNAMIC INTERACTIONS
Gabriel Barceló Rico-Avello
Ver texto
Footnote: For further information, please send us your request to our e-mail address gestor@advanceddynamics.net